POWER
---
Among the many connections I've made through my site, one is of particular importance. In late 2004, John Hartley contacted me to discuss the V8 engine he had been developing and to see whether it would have an application in my project. As conversation progressed over a period of several months it became clear to me that his engine is the perfect powerplant for the dp1. The initial dp1 prototype is powered by a stock Suzuki Hayabusa 4-cylinder motorcycle engine of 1.3L and 175hp but the production car needed more. Much more. This engine is the answer.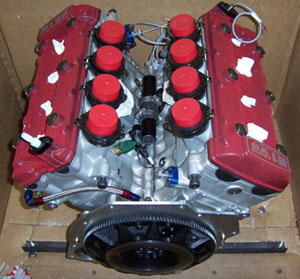 A very compact and lightweight design based on the proven Suzuki Hayabusa top end, the Hartley V8 delivers over 400hp from 3.0L while weighing only about 200 lbs. All this in a package that fits into a 2-foot cube, complete with exhaust headers. While the prototype uses the stock Suzuki gearbox of the bike motor, the production dp1 uses a Hewland JFR sequential transaxle with custom flywheel and racing clutch.



As of this writing, a Hartley V8 is undergoing testing in an Ariel Atom chassis with excellent results. At the same time the design work is progressing on developing a composite chassis and an evolution of the proprietary AWD drivetrain for limited production.
---