---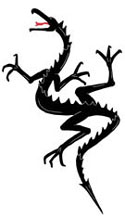 2007 Palatov dp1
---
What is the dp1? First and foremost, it's an ultimate form of self-expression. But not just artwork - it is art that works. A living, carbon-and-alloy manifestation of what I think a true performance machine should be. The driver. The motor. Just enough to give the driver full mastery of the motor's power... The best art is engaging. The dp1 goes far beyond just that. It's about controlling more energy than one was born with. It's an extreme. A pure concept extrapolated to its logically insane conclusion. It is definitely not for everyone. But for the few who understand it and have the skill to control it, this just might be the ultimate performance car.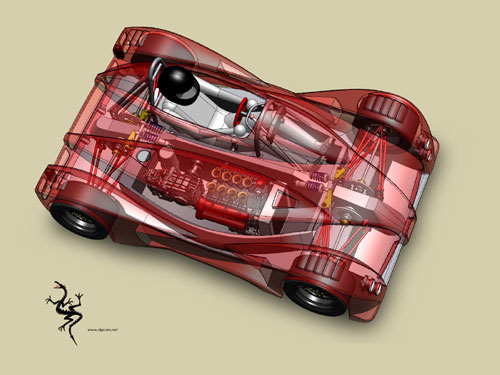 With only 2.25 pounds for each of the 375 horsepower of its custom 2.8L V8, the power/weight ratio matches that of a modern Indy car. The chassis squeezes over 1.5g cornering from DOT-legal performance tires. And that's before downforce kicks in. A proprietary lightweight AWD system delivers the power to the ground. Many enthusiasts are familiar with the concept of a Traction Circle, defining a car's abilites to generate g forces in all directions - braking, cornering and acceleration. Except that in most cars the Traction Circle is not really a circle. The O is really a D with acceleration typically falling far short of the other abilites. Besides the lack of power, there is usually a lack of traction to use even whatever power that is there, relying on electronics to keep tires from spinning helplessly. The dp1 addresses both the issues. With power and traction that facilitate acceleration of over 1.5g it matches mechanical (non-downforce) cornering and braking. A perfect circle. It is my personal definition of well-rounded performance.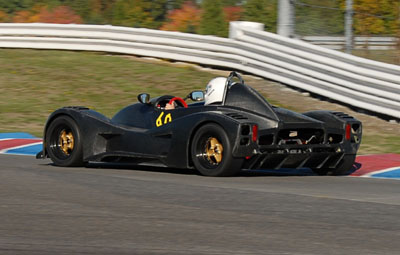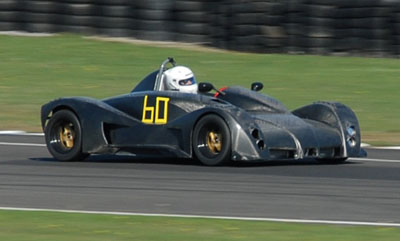 How did the dp1 come to be? It all started with the proverbial napkin sketch. Actually, a thousand sketches came before it, but this one suddenly made sense. The pile of car components that have been spinning in my head in 3D for years at once landed, each in its place, and the hastily drawn lines confirmed it. Yes, this might actually work. Just the driver and the engine, wrapped in as small a car as practical, with All-Wheel-Drive to ensure the power is converted to thrust and not just tire smoke and noise.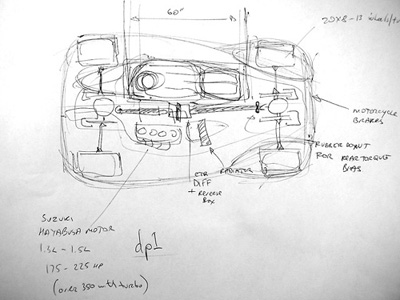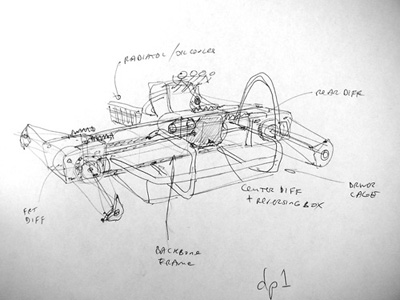 Every car enthusiast has at some point imagined the 'perfect' car. Of course perfection is a very subjective thing. Most such visions when held up to reality and what's already been done quickly lose focus. There are many very competent cars out there and it is increasingly more difficult to come up with something that's clearly better or at least different, even subjectively. So usually the dream falls victim to instant gratification and one just goes out and buys something that's close enough. I have done this myself - the list of my toy purchases is long and varied. Every such purchase was a dream fulfillment in its own way (not always obviously so), from my very first rusted-out Fiat X1/9 to the supposedly unobtainable Elise S190 years later. Each became a valuable first-hand learning experience. Collectively my past cars and my experiences driving them on and off the track have created a solid base of reference that I could use not only to judge a dream but to shape it. The full list is on my site for those interested.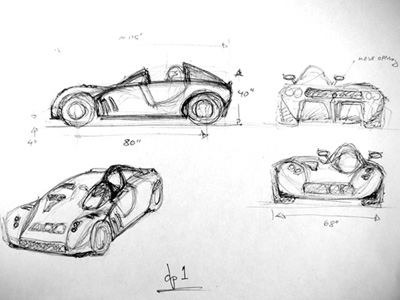 So now, looking at the sketch, I knew I had something. Something worth pursuing. Something worthy of the sacrifices to come. The day was May 26, 2002.
I knew that I could leverage my experience with 3D CAD and complex design project management from my two decades in the computer industry. I've been fortunate to have worn a lot of hats, from programmer to hardware developer to industrial designer and all the way up to VP of Engineering with a couple of startup tech companies. So I had an appreciation for the magnitude of the task, and a good idea on how to tackle it with the available resources. Creating things that don't exist yet is an interesting challenge. One definitely needs a schedule to drive the process. At the same time, there are so many unknowns that real planning is virtually impossible. It's just like doing a startup - you have to have a plan but you have to anticipate things won't go according to plan. So I set targets. Knowing full well that schedules and indeed the very design will change over time. The initial target was to have a driveable prototype in two years. It ended up taking four and a half to get to that stage, which can still be seen as a bit of an achievement considering that it is essentially a one-man effort. The full details of the trials and tribulations are available on the dpcars.net site. They are split into three sections - initial design, prototype build and development effort documenting the steps from prototype to production. In each case, start at page 1 in upper right. Below are some highlights of how the prototype took shape, using a mix of hand craftsmanship and top-end computer analysis and CNC fabrication, including production-quality tooling.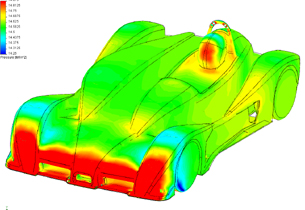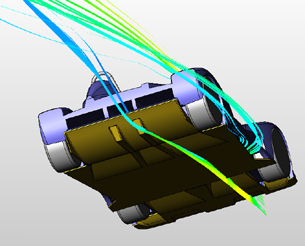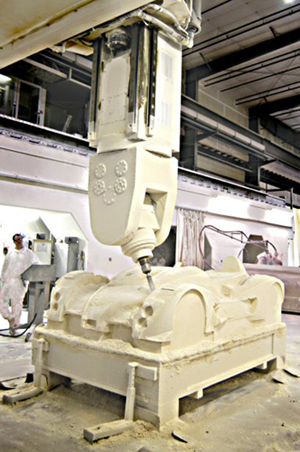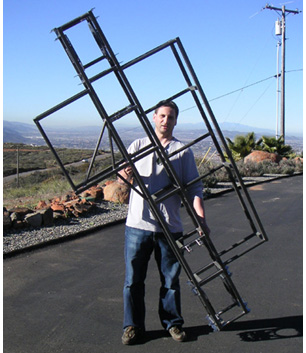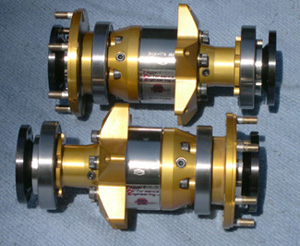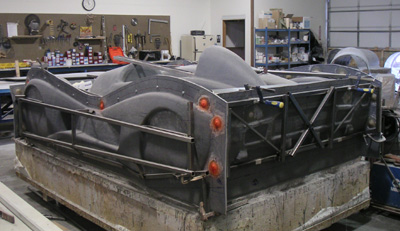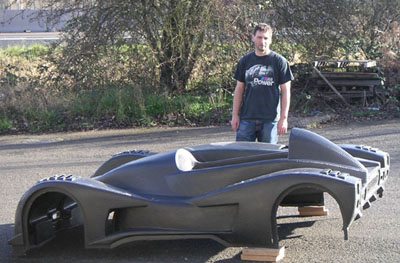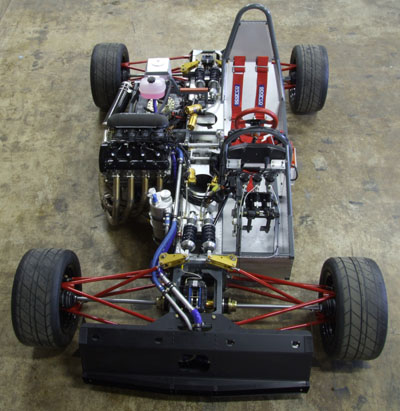 The design process was a steep learning curve as the web logs attest. From the very beginning I have decided to keep the process open and to document it on my site, betting that what I learn from the feedback I receive will be worth sharing my discoveries (and my mistakes). The results have exceeded all expectations. Throughout the years I have made very valuable connections, some of which grew into friendships, and have received input from extremely qualified people whose expertise would otherwise be unavailable to me. While the dp1 remains a very focused and personal vision, many people have contributed to helping me shape it and making the dream a reality. The Internet is indeed a wonderful medium for communication.
Among the many connections one is of particular importance. In late 2004, John Hartley contacted me to discuss the V8 engine he had been developing and to see whether it would have an application in my project. As conversation progressed over a period of several months it became clear to me that his engine is the perfect powerplant for the dp1. The initial dp1 prototype is powered by a stock Suzuki Hayabusa 4-cylinder motorcycle engine of 1.3L and 175hp but the production car needed more. Much more. This engine is the answer.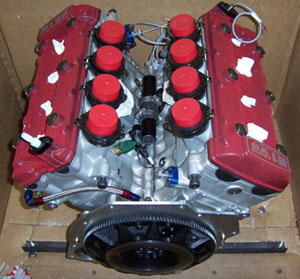 A very compact and lightweight design based on the proven Suzuki Hayabusa top end, the Hartley V8 delivers over 375hp from 2.8L while weighing only about 200 lbs. All this in a package that fits into a 2-foot cube, complete with exhaust headers. While the prototype uses the stock Suzuki gearbox of the bike motor, the production version of the dp1 will use a Hewland sequential transaxle with custom flywheel and racing clutch.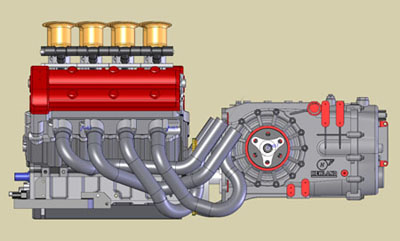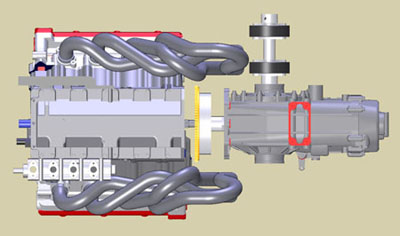 As of this writing, a Hartley V8 is being prepared for testing in an Ariel Atom chassis. At the same time the design work is progressing on developing a carbon chassis and an evolution of the proprietary AWD drivetrain for limited production. In addition to the original bodywork that can be seen on the prototype, several other body styles are planned and the chassis will accommodate a wide variety of custom body designs, to suit particular customer preferences.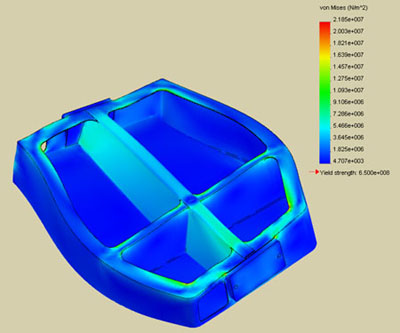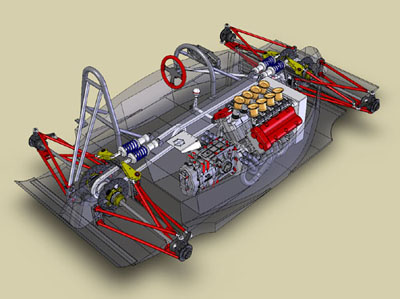 Production is currently planned to start in July of 2007, at the rate of one car a month. Preliminary specifications and pricing for the dp1 are listed below. Those interested in learning more about the car and placing a deposit should contact me directly.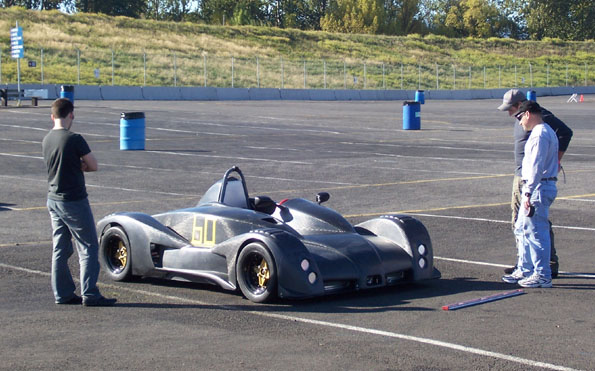 In the meantime, the testing of both the prototype and the Ariel Atom powered by the Hartley V8 will continue. As this preliminary video indicates, the inital testing has been very encouraging. This site will be updated with developments as they take place.
---

dp1 SPECIFICATIONS and PRICING:
Wheelbase 80.5", Width 70", Length 113", Height 39" (top of rollbar), Ground Clearance 2.5"
Proprietary AWD system with chain drive and Quaife limited slip differentials
Chassis: carbon, quick-change bodywork
Wheels 13x8, Tires 225/45-13 Hoosier R6 or 20x8-13 race slicks
Engine: Custom 2800cc V8, 375hp @10,000 RPM, 220 lb-ft @6500 RPM
Gearbox: 5-speed sequential with reverse
Weight: 850lb. Power/weight 970 hp/metric ton (2.25 lb/hp)
Projected price: $150,000
*** The dp1 will carry a one-year Limited Warranty.
*** A one-day racetrack orientation is included on delivery.
NOTES:
1. All specifications and pricing are preliminary based on current prototype and are subject to change. Customers with deposits shall be notified of any such changes and will have the option to have their deposit refunded if changes are not acceptable. A deposit guarantees price no higher than MSRP advertised on this site at the time of deposit.
2. Pricing is for complete, ready-to-drive cars and includes a brand-new engine. Non-metallic paint is standard, other optional finishes available.
3. Cars are intended for recreational track use only. No compliance with regulations for street-legal vehicles is either intended or planned.
4. Due to AWD system cars are not eligible for any existing SCCA road racing class. Other clubs, such as NASA, may allow dp1 to compete, however no guarantee of eligibility can be made at this time. The cars may be eligible for SCCA Solo competition in Modified class.
---